Offices go touch-free as landlords adjust to covid fallout
June 9 2020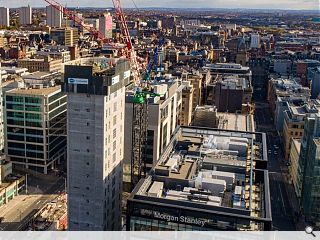 HFD Group has undertaken a series of late design changes to an under construction office development at 177 Bothwell Street, Glasgow, as the developer responds to shifting tenant priorities.
A range of health and wellbeing measures have become necessary as employers adapt to post-Covid life centred on a review of all human 'touch points' to ensure occupiers can navigate from reception to lift without any tactile contact.
Utilising intelligent building technology visitors mobile devices will be enabled to operate security gates and lifts, with remote lighting doing away with the need for physical switches.
Stephen Lewis, managing director of HFD Property Group, said: "Factoring in what we know about the disease so far, our review has focussed on a number of aspects of the development, particularly people's physical interaction with the building, along with the use of technology and amenities. We have removed the need for people to physically touch the building with their hands as far as possible, while taking a range of other steps including a review of ventilation systems and air circulation. As we come to know more about the disease, other enhancements may be incorporated.

"Many of the workplace trends that were present before – such as flexibility, sustainability, and agility – have now been 'super-accelerated' by the virus, and that is only likely to continue in the months and years ahead."

A dedicated loading bay and central lockers also eliminate contact between suppliers and customers. Elsewhere underfloor heating replaces air-based systems ensuring fresh air ventilation without recirculating stale air within the Sheppard Robson designed block.
Back to June 2020