£360k heritage funding pot to kickstart repairs at five Glasgow buildings
June 2 2020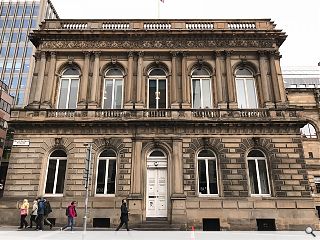 Glasgow City Heritage Trust has awarded grant funding of over £360k to undertake vital repairs to five buildings across the city.
The largest single beneficiary is the B-listed Smiths Hotel at 93 Sauchiehall Street which has been allocated an £80k grant to repair an early example of a Victorian tenement. Also benefitting is the A-listed Royal Faculty of Procurators, which frames the entrance to Nelson Mandela Square. Modelled on Sansovino's Library in Venice the Charles Wilson designed build will benefit to the tune of £57k and be subject to a small exhibition.
Other projects sharing in the pot include a B-listed tenement at 3-7 Great George Street, Hillhead, with £5,886 made available to fix failing and dangerous window jambs which have been propped with timbers. A feasibility study for repurposing the B-listed Govanhill Trinity Church as a community space has also been instigated with a £5k development grant.
Torsten Haak, Glasgow City Heritage Trust's director, commented, "I'm particularly pleased that we are supporting such a wide variety of projects, from small grants for domestic stonework repairs to comprehensive projects to repair significant buildings in the city centre, along with traditional skills training and projects that will support communities to engage with their local place and their heritage."
A variety of related initiatives will also benefit from the programme including an extension of the Ghost Signs of Glasgow project and a traditional skills grant to provide vocational training for pupils at Smithycroft Secondary School.
Back to June 2020