Cairngorms see new forest homes
|
Send to friend
September 12 2008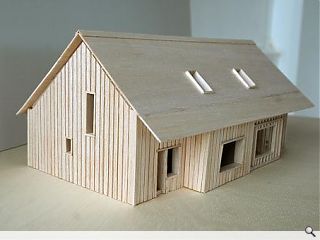 Two timber houses designed by John Gilbert Architects for Albyn Housing Association Ltd, in partnership with the Forestry Commission, have started on site at Glenmore within the Cairngorms National Park. The project is a pilot scheme to maximise the use of Scottish timber and sustainable materials for social housing.
Albyn Housing Society programme co-ordinator Helen Cameron said "We are delighted that this project is underway. The site, the former campsite shower block was sold to Albyn Housing Society by the Forestry Commission under the Forest Land Scheme – an initiative which enables forestry land to be released for affordable housing. The project will deliver two sensitively-designed homes which will be economical to heat and run, which is so critical given current energy costs."
The houses will be composed of, predominantly, environmentally friendly materials from British sources. In addition the designs incorporate ecological features such as high-level insulation, multi-fuel stove heating for main rooms and rainwater harvesting. Windows are orientated to take best advantage of natural sunlight and the view of surrounding woodland area.
Project architect Matt Bridgestock from John Gilbert Architects said: "The main aim is to build functional and robust social housing, with the maximum use of Scottish timber and minimising the amount of energy and carbon emissions throughout the build and occupation.
"Developing markets and products for Scottish timber has a much wider social and economic agenda, providing investment and regeneration across the Highlands of Scotland."
The layout and style of the houses is informed by the forest context and the traditional architecture of the area with high aspirations to set a benchmark for design and sustainability in the Cairngorms National Park.
The Cairngorms National Park Authority (CNPA) approved the project based on the quality and strong sustainability goals of the development. CNPA planning officer. Neil Stewart said: "The proposal is for much-needed, affordable housing in a relatively accessible location and with a sympathetic approach to what is a difficult site. This is an exemplar project that sets a desirable precedent for similar affordable housing developments."
New, native trees will be mixed with the existing mature trees to create a cohesive canopy around the clearing, thus maintaining the forest setting.
Bob McIntosh, Director of Forestry Commission Scotland, said: "The project with the Albyn Housing Society is a great example of how the National Forest Estate, through the National Forest Land Scheme, can help to improve the quality of life and wellbeing of people across Scotland.
"The project is doubly important because as well as providing local people with affordable and efficient housing it will also highlight the important contribution Scotland's home-grown timber can make towards sustainable construction."
Back to September 2008