HES software tool to eliminate the leg work from surveying
May 25 2020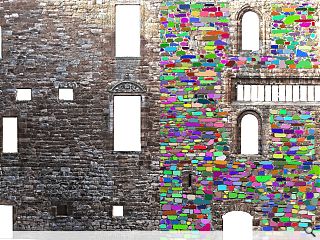 Historic Environment Scotland has debuted an open-source software tool designed to fast-track the laborious process of surveys and fabric inspections.
Developed in partnership with the University of Edinburgh and Heriot-Watt University the digital tool combines precise laser scanning and photography to create an accurate model of buildings and structures. Armed with this information facades can be reliably inspected for masonry and mortar defects without leaving the desk.
It is hoped surveyors will embrace the technology as a way of more efficiently surveying buildings in their care, automating processes which have traditionally relied upon expensive inspections and scaffolding.
Dr Frédéric Bosché, senior lecturer in construction informatics at The University of Edinburgh, commented: "This tool aims to improve the efficiency of what is otherwise tedious and time-consuming work, and thereby frees surveyors to focus on activities that really demand their expertise.

"The output of the tool will hopefully support more structured monitoring of historic buildings (in integration with Building Information Modelling)."
Dr Alan Forster, associate professor in building conservation, low carbon materials and construction technology at Heriot-Watt University, added: "Financial austerity forces us to focus more than ever on cost-efficient, accurate evaluation of our historic buildings.
"The ability of our open-source digital technologies to support these activities enables the money for repair to be spent where it is most urgently needed, namely on the building itself."
The software has already been trialled at Linlithgow Palace where individual stones have been automatically extracted for follow-up repair.
Back to May 2020