Global insights inform Edinburgh Park urbanisation drive
May 25 2020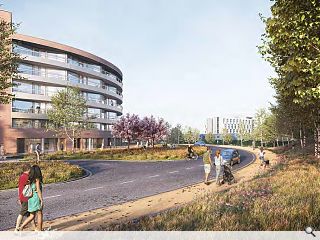 Detailed drawings have been
uploaded
by developer Parabola for a residential-led, mixed-use masterplan at
Edinburgh Park
.
The 43-acre masterplan will deliver 1,700 homes, 434 classed as affordable, to the west of a large public arrival space at Edinburgh Park Station. Here it is proposed to build a 20,000sq/m pre-cast concrete office building alongside a 170 room apart-hotel and cinema connected to the station building by a covered frame.
Closure of the crosswinds runway at Edinburgh Airport allows these buildings, designed by Allford Hall Monaghan Morris, to push up to nine storeys in height with both buildings resting on a brick base with stone arches defining entrances to car parking and services.
Parabola chairman Peter Millican said: "We are committed to building real homes for all. Homes which people are proud to live in and which create a community across the social spectrum. We have undertaken a research tour of social housing exemplars in Amsterdam, Basel, Zurich, USA and the UK in order to finalise our residential-led masterplan."
The masterplan architect is Dixon Jones, supported by residential architects Sutherland Hussey Harris and HTA Design, who propose to diverge from the current business park layout by forming an east-west tree-lined 'Cross Street' sitting perpendicular to the tram line with a landscaped cross and an arts hub marking the intersection.
This more urban approach will be augmented by a network of parkland, squares, promenades and courtyards which clearly define front and back areas.
Back to May 2020