Construction sector welcomes moves to restart idle sites
May 22 2020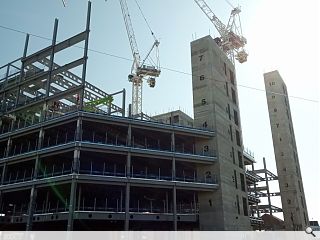 The construction industry as let out a collective sigh of relief following the first tentative moves by the government to authorise a phased return to work from 28 May.
Proposals set down by First Minister Nicola Sturgeon would enable contractors to resume work on stalled sites, subject to the implementation of rigorous safe working practices.
Welcoming the announcement Elliot Robertson, chief executive of Robertson, remarked: "With construction and housebuilding operations on both sides of the border, we have found ourselves in a situation where we have been working safely in England but unable to do the same in Scotland."
There have also been calls for the government to go further in permitting indoor workers to proceed in tandem with their outdoor colleagues with Robin Blacklock, chair of the Scottish Property Federation, stating: "We also note the difference between outdoor and indoor working and there are examples where key indoor work may be done safely in line with COVID-19 safety operating procedures.
"These works will include fit-out operations for businesses and retailers that will be necessary for their successful reintroduction to the economy as the route map unfolds."
Alan Wilson, chair of the Construction Industry Coronavirus Forum added: "This is the news we have been waiting for and it has not come a moment too soon."
A four-phase plan to exit lockdown centres on strict physical distancing and is predicated on continued declines in the infection rate.
Back to May 2020