Dramatic Finnieston glasshouse idea labelled as a lockdown tonic
May 22 2020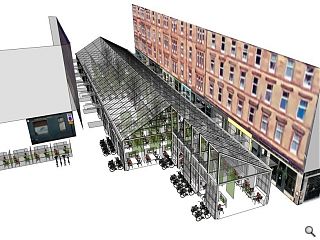 Business owners on Argyle Street, Finnieston, have come together in support of dramatic plans to lift the street from its lockdown slumber by erecting a linear glasshouse to serve as an outdoor dining experience.
By banishing traffic from the thoroughfare it is hoped to draw people out from their homes by bringing the indoors outdoors along a glazed pavilion extending from Kelvingrove Street to Derby Street - retaining the current pavements for pedestrian and services access.
Conceived by local architect and Crabshakk owner
John MacLeod
the big idea centres on forming a short strip of commercial space for local businesses to weather the Covid-19 storm.
In an open letter to Glasgow City Council calling for a hearing, MacLeod wrote: "To see the area lying empty with no prospect of re-opening and the very real danger of some not opening at all, is heartbreaking.
"It seems 21st-century virus events may be cyclical and we have only now been exposed to the beginning of potentially a very different world ahead. The climate crisis will be knocking on the door in due course so new solutions and contingencies may well be the order of the day."
Citing the public good in a changed reality of open-ended social distancing measures Macleod cites the need for open-plan venues for patrons to eat and drink in relative safety, fearing that customers will be reluctant to return to more intimate settings.
A design team including Graven Images has been assembled to help put the proposal on a solid footing.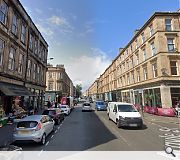 It is thought that the intervention would necessitate road closures and dversions along just one block of Sauchiehall Street
Back to May 2020