River Clyde walkway to reopen following quayside funding agreement
May 21 2020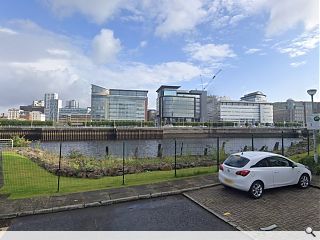 Glasgow City Council has agreed a funding deal in principle with homeowners at Windmillcrot Quay, enabling a new quay wall to be built.
Protracted negotiations have been underway since 2014 when a section of the River Clyde walkway between Tradeston and Springfield Quay had to be closed to the public.
Urgent repairs were duly carried out by Luddon including earthworks to stabilise the surrounding ground but the area has remained fenced off ever since amid wrangling over ownership and responsibilities.
Under the terms of the deal, 278 owners have agreed to bear a £5k cost each toward the project (£1.39m) with a further £750k expected from a third-party contributor.
This will unlock £11.6m in grant funding from the council, drawn from the City Deal pot, to allow erection of a steel sheet structure extending out 12m from the current riverbank which would be owned and managed by the local authority.
Council leader Susan Aitken said: "Repairing the Windmillcroft Quay wall will not only benefit everyone who lives, works and visits there but the entire city. We're going to create new, high-quality public space on the waterfront and better connectivity that will complement the huge amount of development activity taking place along the Clyde."
Detailed design work is expected to get underway in June with a site start following by January 2022.
In 2013 a section of quay wall on the
opposite bank
collapsed following reports of subsidence.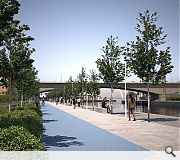 New land and public realm will be created as part of the works
Back to May 2020