Broomielaw quay wall collapse leaves Council in a hole
March 1 2013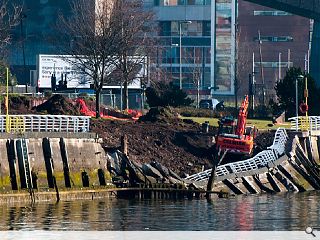 Glasgow City Council have been hit by that sinking feeling after a section of quay wall beneath the Kingston Bridge slumped into the river Clyde following reports of subsidence.
The spectacular failure followed the appearance of an alarming hole, which unsettled the many joggers, cyclists and walkers who regularly make use of the riverside route.
Works had been scheduled to strengthen the wall ahead of construction of a new bus route but this will now come with a hefty repair bill attached.
A council spokesman said: "A depression in the walkway was noticed last Wednesday. That afternoon, council staff assessed the depression and fenced off the walkway.
"The assessment indicated a failure in the quay wall. A local contractor with a good working knowledge of the quay walls in the area is now on-site. The contractor is carrying out investigations on the quay wall and is monitoring it daily. Local businesses and residents have been informed."
Photography by David Pollock.
Back to March 2013