A-listed Galashiels stadium makes its last stand
May 20 2020
David Narro Associates have been commissioned by Gala Fairydean Rovers to undertake repair and conservation of the
A-listed Netherdale Stand
in Galashiels.
A Brutalist masterpiece, renowned for offering football fans unobstructed views by banishing support pillars the future of the cantilevered canopy has been in doubt over recent years pending essential restoration work to water damaged concrete.
Commenting on their commission the structural engineering firm wrote: "An outstanding example of 1960's Modernism, the improbable cantilevers of the stand's canopy yields a structure of such remarkable elemental form it has gained a reverential status amongst architects and designers worldwide. The building is testament to both the singular ambition of its visionary architect, Peter Womersley, and of course the initiative and confidence of the custodians of the club at that time for undertaking such a commission.
"The building is made almost entirely of reinforced concrete and is virtually pure structure. The sculptural form, down to the deliberate board-marking of its cast surfaces, are key to its status as a brutalist masterpiece. That the building is such a work of art defines the key challenge of this project, which lies in the careful and conservative management of the natural ageing process of concrete as a structural material."
This reliance on reinforced concrete presents particular challenges for the design team, which includes Reiach & Hall, Morham & Brotchie and Irons Foulner, as they grapple with a material whose long-term behaviour remains an unknown quantity.
The practice added: "The conservative care and repair of architecturally important reinforced-concrete buildings and structures is a field of conservation in its infancy, in part because of a hitherto unfamiliarity with the long-term behaviour of the material and the technical capabilities of repair, but also because reinforced concrete is a wholly different thing from almost any other large-scale construction material: do the commonly-held, long-established philosophical approaches to the care and conservation of a traditional building apply?
"Our work, which is being led by a conservation accredited engineer, seeks to marry an approach of pragmatism and minimal intervention, with the use of compatible repair materials where intervention proves necessary, together with sensitive adoption of mitigation measures to stave off decay – all informed of course by a detailed understanding of the existing structure and its ageing and decay mechanisms."
Seating areas at the stand have been closed since 2018 while exploratory drilling has been carried out to ascertain the extent of damage to the concrete, which has begun to break away in parts.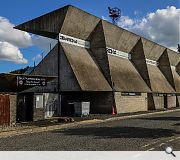 Reinforced concrete has proven to be no match for the Borders climate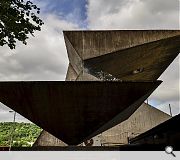 The distinctive cantilevered canopy appears to defy the laws of physics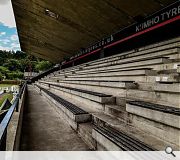 The stand has fallen silent in recent years amid fears over spectator safety
Back to May 2020