Façade retention scheme approved for historic Hillhead church
May 14 2020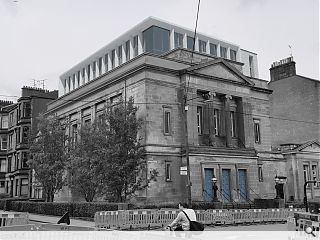 Wemyss Property has been granted full planning permission to proceed with 29 new build flats on the site of the B-listed Hillhead Baptist Church.
The façade retention scheme will preserve the ornate exterior of the corner landmark but will result in demolition of the main sanctuary, which has lain empty for close to 20 years and is considered to be unsafe. Here a five-level contemporary extension is planned to accommodate a mix of apartments together with a new church and community facility.
In a statement EMA Architects wrote: "This is a building that has lain derelict for many years and after a number of abortive attempts over a number of years by various developers and design teams to redevelop the site, we are pleased to have brought this stage of the process to a successful conclusion. The cost of saving the listed façade and delivering a new community space for the Church meant that the density had to be relatively high.
"The density, the historic importance of the building and the sensitive location created challenges for the designers, for the planners and for the community. The outcome will never please everyone but we're particularly proud of the fact that a derelict corner of the neighbourhood will now be brought back into use for the benefit not only of people who want to live there, but for the local community that is served by Hillhead Baptist Church."
Assuming the Covid-19 virus crisis eases work should start on the build by 2021.
Back to May 2020