Arts & Crafts movement revisited with Edinburgh garden room
May 8 2020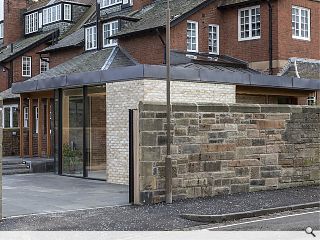 Oliver Chapman Architects have drawn inspiration from the Arts & Crafts movement with the delivery of a garden room extension in Trinity, Edinburgh, which emphasises craftsmanship above all else.
Flitch House picks up on the styling of the B-listed parent home through a natural palette of exposed brick, Douglas Fir and oxidised copper to deliver a warm and inviting space.
Dominated by an engineered roof structure of Flitch beams, slender steel ribbons sandwiched between thick timbers to allow greater spans to be achieved, the technique provides sufficient strength for the roof to be lited up at the edges and so preserve views across the Firth of Forth.
This technique also allows for the roof to be thickened, maximising thermal performance and enabling a roof light to be inserted where the roof steps back from the house.
Internally the extension takes the form of a series of terraces with bespoke seating, steps and storage marking each threshold with a unifying warm pewter floor of Architop micro-concrete blurring the transition to a Caithness stone external terrace.
In a statement, the architect wrote: "While the early Arts & Craft movement was a reaction against the technological advances of the industrial revolution, Flitch House combines our clients' appreciation for craft and natural materials with their desire for a 'smart home', including wireless lighting and automated blinds. This is Arts & Crafts without the bell pull."
Photography by Angus Bremner
Back to May 2020