See-through Newhaven home extension shows a light touch
May 5 2020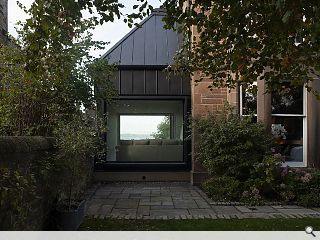 A modest house extension in the conservation area of Newhaven, Edinburgh, has been unveiled by Glasgow architect Daniel Bar.
Standing as a direct replacement for an existing garage the lean-on living space comprises a ground-level horizontal volume connecting two large openings at either end, bounded by gable a boundary walls.
A new corridor connects to the existing entrance hall with the threshold between old and new marked by a step and framed down ceiling. Above this a triple-pitched roof opens vertically via a large skylight, affording privacy to a first-floor ensuite bathroom.
Bar wrote: "Upon entry, the angled wall following the set out of the site boundary line widens the perspective towards the main view. This emphasis in the orientation of the otherwise equally treated openings is further underlined by the direction of the laying pattern of the oak herringbone floor.
"An extension, by nature, will always be treated as a newcomer within the well established built context of this area. This project focuses on the intersection of being part of a place and creating its own environment at the same time."
Finished in black zinc the 32sq/m extension is stepped from a double-height frontage to a triple-height rear.
Images by Francesco Mariani Photography
Back to May 2020