Housing demand pushes Broadford south
April 17 2020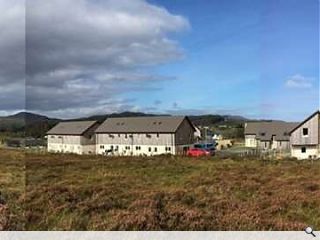 Lochalsh & Skye Housing Association have advanced plans for a further 24 homes for affordable rent at Campbell's Farm, Broadford, in a fourth wave of housing for the site.
Helmed by Wittets Architects the masterplan calls for 54 homes to be built on a 4 hectare greenfield site to the south of the village, joining a further 72 homes delivered in earlier phases.
Explaining the key principles behind their design the architects wrote: "Whilst it is important to tie into the local context and respect how the area has evolved and adapted over the years, it is equally important that we learn from history and re-interpret in a contemporary way as to not mimic; to create a design rooted in tradition but contemporary in spirit.
"Based on the local context, a mix of storey heights with traditional pitched roofs of dark grey tiles, off-white smooth dash render to walls with smaller areas of cladding boards have been considered appropriate and complement previous phases of the development."
Buildings will be oriented to provide maximum shelter and solar gain with timber cladding to upper floors and porches with overhanging entrances supported by steel posts to form clear thresholds.
A Spring start is estimated for the build which will include a mix of detached homes, terraces and semis alongside cottage flats.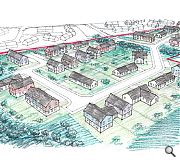 A further 54 homes are to be builtin two phases around a central watercourse
Back to April 2020