Design tweaks presage Edinburgh Park car park delivery
April 17 2020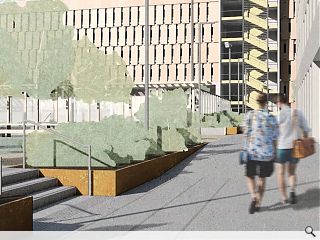 Dixon Jones have filed a series of minor amendments related to the construction of a multi-storey car park at
Edinburgh Park,
including a reconfiguration of stair cores and changes to the shingle and PPC cladding.
Nine external parking spaces for disabled users have also been brought within the car park structure while robust ground floor precast concrete cladding has been replaced by PPC aluminium. Glazed curtain walling to corner escape towers has also been amended.
As before the garage will be finished in aluminium panels stacked in a vertical 'shingle' arrangement, permitting airflow while obscuring the cars within.
Expounding this approach the architects wrote: "Proposals for a textured light bronze colour to the car park facade were inspired by the local vegetation. Edinburgh Park has a regular structure and formal layout of tree columns and beech walls. The beech hedges hold their golden leaves throughout winter and produce a static, sculptural display of leaves in different orientations."
First submitted by Parabola in 2017 the plans form part of a southern phase of expansion at the out of town office park
Back to April 2020