Hotel vision vies for planning victory
April 15 2020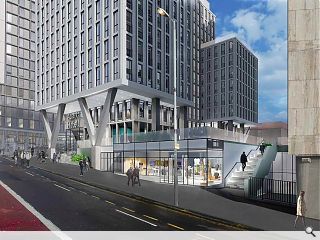 Glasgow city centre is set to play host to a new 260-bed apart hotel as part of a broader redevelopment of the Metropolitan Tower by Osborne & Co.
Once again overseen by Cooper Cromar this element of the plan will adopt a complimentary modernist style with a rational main body of repeating bedroom modules rising from a more expressive base.
Formed from glass reinforced concrete and metal cladding each window soffit will include a horizontal louvre for ventilation.
Articulating this approach the architects wrote: "To the ground floor, an expressed 'V' structure will present itself to both the North Hanover Street, North Frederick Street and Cathedral Street elevations. The 'V' solution represents a structural solution that opens up the pinch points to the street corners. There are added benefits in avoiding potential underground obstructions and utilities by pulling away the primary substructure from the corners of the site."
A landscaped plaza will conjoin the hotel to the first floor of a revamped Met Tower with a bar and restaurant opening directly onto this new public space.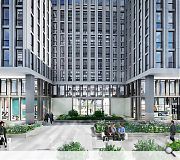 Structural gymnastics facilitate a more generous public realm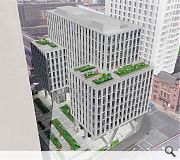 The hotel joins a growing high-rise cluster
Back to April 2020