Construction sites fall silent as virus lockdown bites
March 24 2020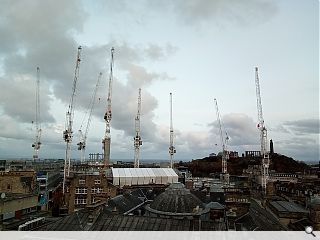 Construction sites around the country have ground to a halt as workers down tools as part of a government mandated coronavirus lockdown.
CCG, Springfield Properties and Mactaggart & Mickel are among those to shutter sites indefinitely in a bid to contain the contagion, restricting activities to securing their sites once they have been made safe.
Among those to suspend work was CCG Homes which advised: "All construction works will cease during the lockdown period with full construction activity to re-commence only after the Government confirms it is safe to do so. Initial advice suggests a minimum 3-week duration however this may be subject to change as the situation evolves over the coming days and weeks."

A similar statement from CALA read: "We have a duty to hand over homes to our customers who are relying on moving imminently to ensure they have a roof over their heads and a safe place for them and their families to stay during these challenging times. We also have a legal obligation to ensure our sites are safe, and any structures are secure, before we close our developments completely."

Others such as BAM Construction are striving to keep sites open amid conflicting government advice. In a statement the contractor wrote: "We are working hard to keep construction sites open and safe, and supporting our FM (facilities management) customers by helping them manage their buildings safely so they too can keep operating. We are liaising closely with our clients, sub-contractors and our suppliers to find creative solutions that enable us to deliver our projects and services."

Strict curbs on activity are expected to remain in place for a minimum of three weeks.
Back to March 2020