Murphy speaks out
|
Send to friend
September 9 2008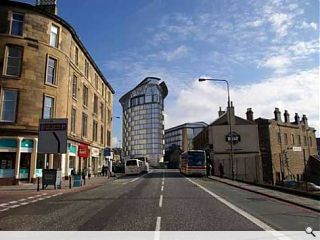 As one of Edinburgh's leading architects, Richard Murphy is well used to garnering flak. But proposition of a 17 storey hotel in haymarket has excited an unprecedented storm of opposition prompting Murphy to answer his critics in a defiant defence of his work.
Commenting on the rationale leading to a tower proposal, Murphy states: "I was astonished how little Reiach & Hall had considered the rail tunnels in its scheme for the site. We tried to turn the problem to our advantage, so we are not building over the tunnels at all. Instead, we are dedicating all that space to public space. It left a sliver of space between the tunnels and the roads, so it was an instant thing of 'what can you do?' That's where the idea of an object building came out."
Richard details his design inspirations: "Our hotel will breach the skyline, and a jolly good thing too. I was very keen that there should be a distinctive roof, which is quite unusual with tall buildings. Most of the buildings I like in New York have good roofs, the sort of Gotham City era of buildings rather than the Mies van der Rohe era."
A common vein of protest is the lack of a strategic view, here Richard protests: "Haymarket is not the problem, the problem is that you don't have any proactive leadership from the council… you can't just put a development on hold for five years while the city wakes up to the idea of having a masterplan – it's crazy."
Unesco are a common bugbear for architects and developers across the capital, but Murphy has little time for them: "My experience of Unesco is some brand, a conservation mafia. I've quickly come to the conclusion that conservation architects have an exceptionally limited view of the world and architecture within it. Some Japanese guy [Koichiro Matsuura, the director-general of Unesco] turns up, and the first thing he says is he's worried about Caltongate because it breaks the skyline. That's the one thing that Caltongate doesn't do… it's not a question of whether people are building too high or too fast, that's completely irrelevant, it's about quality."
Advising of future ambition Richard says: "In Edinburgh, I always end up building down back lanes or in people's back gardens. Suddenly we've gone from one extreme to the other: we're now doing a major gateway building that you can see from miles around. It's a bit scary. Apart from building my own house, my ambition in Edinburgh is to build one big public building before I die.
This article contains extracts from a wider interview with Richard Murphy, which is available to view at
bdonline
.
Back to September 2008