Glasgow fosters street café culture with city centre trial
March 10 2020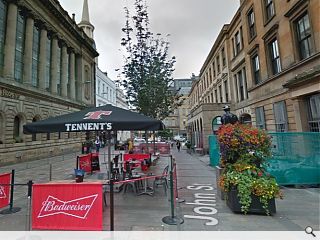 Glasgow City Council has outlined a new temporary street café policy designed to draw more people to the city centre.
The draft policy would capitalise on the existing leisure and retail offer of the area by reducing red tape associated with the use of outdoor areas as temporary street cafes.
A two-year trial is proposed in which the application process will be streamlined together with replacement of a flat rate fee structure with a cost per square metre.
In addition the council will also clarify its operating standards and update the enforcement process associated with cleanliness, trading hours and the occupation of public spaces.
Councillor Greg Hepburn, commented: "Our new street café policy is a huge positive for Glasgow City Centre, matching the city's ambitions as a major European city and making the area more attractive for Glaswegians, visitors and investors.
"The policy will also bring benefits to our retail outlets, leisure facilities and cultural scene, bringing even more life to our major streets and avenues."
The draft policy will go before the City Administration Commission later this month.
Back to March 2020