Future fantastic
|
Send to friend
September 8 2008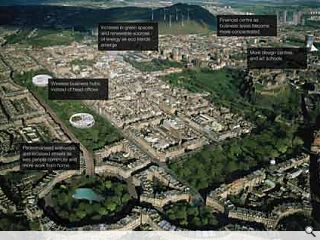 Billionaire Bill Gates has unleashed his team of technological code monkeys upon Edinburgh's virtual cityscape, with outlandish results.
Having recently set up shop in Waverley Gate, Gates (the world's third richest man), is clearly intent on making waves in more ways than one by stirring the capitals notorious heritage brigade with a stream of proposals that make the current Caltongate rammy, Haymarket stushie and Hart Street palava appear as nothing.
The software supremo has created an image to graphically illustrate the changes that could arise by 2033 if the capabilities of a "mobile" world are fully realised. This vision portends that denizens of a world 25 years hence will be less constricted by the routines of a nine-to-five existence. Rather, mobile communications will allow the population to conduct their business from home, thus freeing up time for residents to treasure their pleasure and leisure.
James McCarthy, the firm's business manager, said: "Edinburgh is set to change dramatically over the next 25 years as remote working evolves and employees embrace the changes to come.
"This vision of Edinburgh shows the landscape is being significantly redrawn to accommodate its mobile revolution and continued development into a financial hub for Europe."
The radical plans for demolition of the First Ministers home on Charlotte Square to provide increased green space may appease some voters but the installation of wind turbines on Salisbury Crags are just as likely to throw planners into a tizzy.
The future vision of an Edinburgh of confidence, swaggering under a necklace of glittering skyscrapers is unfortunately likely to prove an alien concept to the current establishment. Bill Gates for future First Minister?
Back to September 2008