Play amphitheatre mitigates flood risk in Kings Park drainage scheme
February 19 2020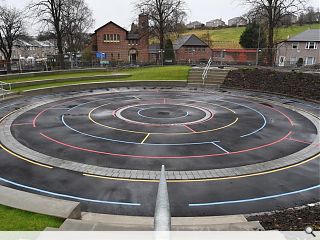 Glasgow City Council have undertaken measure to mitigate flood risk while simultaneously improving amenity with the unveil of a combined amphitheatre and flood basin at Croftfoot Primary, Kings Park.
The urban drainage scheme incorporates new amenity in the form of a sports pitch, play park and walkways undertaken by the Metropolitan Glasgow Strategic Drainage Partnership with funding from the City Deal.
Andrew Lindsay, technical director, at design consultants AECOM commented: "By integrating a variety of drainage features into the urban areas as well as parts of the city where rainfall adversely impacts communities, AECOM has helped manage surface water flooding in South East Glasgow. Not only does this scheme aim to deliver wider benefits to local communities through the creation of amenity space and improved ecology but also provide daylighting culverted watercourses and retrofitted SuDS.
"As part of the project, retrofitted SuDS were placed into schools to remove water flows from the combined sewer within the Glasgow City Council estate. This also included an external amphitheatre as an outdoor learning space for the pupils which is also used for emergency stormwater storage, a sports pitch with surface water attenuation below and the provision of SuDS treatment features."
Work undertaken by contractor RJ McCleod saw sections of the Spittal Burn brought to the surface, together with the creation of a woodland walkway and tree planting.
Back to February 2020