Edinburgh enacts people-first carbon neutral pledge at Meadowbank
February 17 2020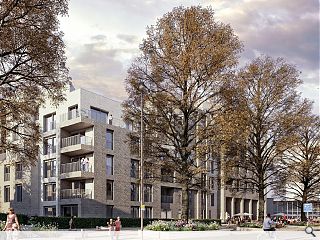 The City of Edinburgh Council with Collective Architecture have progressed an ambitious masterplan for land at Meadowbank sports centre by filing plans for 600 energy efficient homes, a GP surgery and community space.
With an emphasis on pedestrians and active travel the plan centres on a new network of paths and roads routed around rare Wheatley Elms, supported by a pledge to plant additional trees, parkland and a rain garden.
Councillor Kate Campbell commented: "We're proposing that over a third of the homes we build at Meadowbank will be affordable - with most of those for social rent. To support our ambition to be a carbon neutral city by 2030, we're also going to create great public spaces for children to play and people to meet, walk and cycle through. We're prioritising people over cars and keeping parking to a minimum as well as building high quality energy efficient homes."
Planners will consider the proposals in detail over the summer with construction of the new Meadowbank Sports Centre already well underway.
This concept massing diagram shows the belt of mature trees to be retained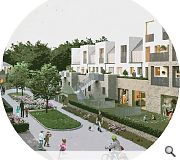 Three distinct sites will accommodate tenement-style apartments, colony houses and mixed-use apartment blocks along London Road
Back to February 2020