Talisker Distillery courts visitors with expanded offer
February 17 2020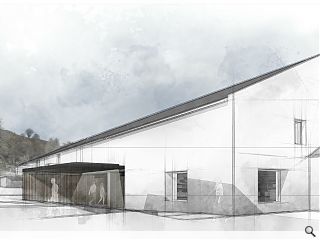 Michael Laird Architects are leading a reimagining of Talisker Distillery at Carbost on the Isle of Skye to expand the current Contagious-designed visitor centre.
Plans submitted to Highland Council by Diageo call for an unlisted maturation warehouse to be converted for this purpose, ensuring the distillery can keep pace with rival attractions.
Principal interventions include the formation of a new entrance on the southern elevation of the building and interior works to facilitate the change in use.
In a planning statement the architects wrote: "The proposed visitor centre will create a far better sense of arrival with the entrance clearly signposted and visible from the newly formed car park.
"The proposed architecture for the proposed entrance reflects our clients commitment to delivering a quality visitor experience and is carfefully detailed, incorporating a stepped standing seam black zinc roof canopy, a contemporary intervention which will complement the existing warehouse building."
Further works to the distillery complex will include the creation of a new café.
The traditional white-rendered warehouse will remain largely untouched
Back to February 2020