Heritage bodies unite to break Egyptian Halls impasse
|
Send to friend
January 29 2020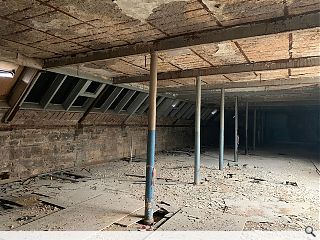 An alliance of heritage bodies has been formed under the stewardship of the Alexander Thomson Society in an effort to break a 40-year impasse which has left Glasgow's A-listed Egyptian Halls in a state of limbo.
The recent shortlisting of the Halls as one of the 14 most at-risk cultural sites in Europe by Europa Nostra has galvanized campaigners to break the deadlock with representatives of Historic Environment Scotland (HES), the Glasgow Building Preservation Trust and the Society for the Protection of Ancient Buildings assembling for a meeting of minds.
The on/off saga traces its roots back to a dispute over ownership, resolved following a compulsory purchase order in 2000 which left Dundonian developer Derek Souter as the lead owner of both ground and upper floors at a purported cost of £5.5m, presaging a full renovation plan drawn up by The Morrison Partnership and Addison Conservation with the approval of GGC and HES.
This moment of optimism as short-lived however as conservation efforts have since been stymied by disputes over grant funding, with Souter ruling out a full restoration as economically unviable. In the prophetic words of Gavin Stamp, writing as Piloti in Private Eye at the time: "Would the agency (Scottish Enterprise) now help with the restoration of a commercial building by Mackintosh?
"… Are they hypocrites or fools – or are these flash executives just reflecting the modern Glasgow culture of loathing good architecture and old buildings?"
The stalemate culminated in recent fears that the structure could be at risk of collapse, although the council disagree with this assessment, stating they '… carried out a survey of the building 18 months ago and found no danger of imminent collapse.'
It is hoped that the building owners and city council will also be able to attend Save Egyptian Halls in a spirit of common purpose to find an amicable way forward with a sale, façade retention or demolition considered to be the only options left on the table.
The symposium will take place at The Lighthouse on 21 February from 13:30 with tickets priced at £10.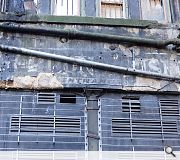 Concerns have been raised at the deteriorating condition of the structure owing to a lack of maintenance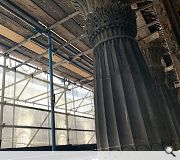 Supporting scaffolding has been erected to protect decorative stonework
Back to January 2020