Paisley addresses long-term decline with 2030 vision
January 24 2020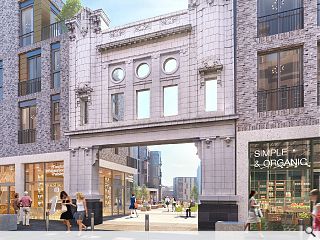 Paisley has become the focal point for a town centre revival plan which is being heralded as a blueprint for other secondary urban centres wishing to arrest their long-term decline.

Vision for Paisley Town Centre 2030 was launched today by Renfrewshire Council, together with Scotland's Town Partnership, to make Paisley a proving ground for a revitalised centre through the adaptive re-use of surplus retail space and the capitalization of heritage and cultural assets.

Developed by Threesixty Architecture the action plan seeks to enhance the existing paisley Centre by repurposing vacant upper units as flats, complemented by a range of new attractions including a High Street cinema and food hall.

The town centre first approach will consolidate remaining street-front retail on High Street while establishing new public spaces, lanes and streets to improve accessibility. Ideas will also be explored to re-use historic buildings such as the Liberal Club, YMCA building and TA Building.
Report author Alan Anthony, managing director of Threesixty Architecture, said: "This study shows a people-first approach that reconnects the whole community to their town centre.
"We have an unprecedented opportunity to rebalance our High Street back to a place with a rich mix of uses. As a lifelong Paisley Buddy, it's exciting to think Paisley could lead the way on town centre regeneration in Scotland."
While it is stressed that many of the ideas are not concrete plans at this stage work is already underway on a raft of initiatives including a transformation of Paisley Museum and creation of a learning and cultural hub.

The Paisley Vision is currently on display at POP in the Piazza shopping centre until 16:30, opening again on Saturday between 0930 and 1630 and finally on Monday between the hours of 0930 and 1500.
Back to January 2020