Paisley Museum reimagining burnishes towns cultural cachet
August 29 2019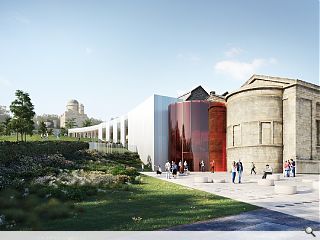 Renfrewshire Council has released the first images of the radical reimagining of Paisley Museum envisaged by AL_A ahead of its reopening in 2022.
Work is already underway to expand gallery space to better tell the story of the town and its people by creating a new entrance courtyard defined by a vivid red glazed entrance hall.
Further changes will include a new west wing fronting a new outdoor garden providing step-free access up to the Coats Observatory, helping to reconnect the museum to the High Street in the process.
Internal renovations have also been specified to double the number of objects on display to 1,200 with a new interactive weaving studio keeping Paisley's traditional textile skills alive.
Amanda Levete, principal of AL_A, commented: "The brief for Paisley Museum is one of the most radical I've encountered. Paisley has a proud industrial past and a history of innovation and radical thinking. We have embedded this into our design to create an extraordinary place for the community of Paisley."
Paisley is in process of transforming itself into a cultural destination with work to transform the Town Hall into an entertainment venue and the opening of a museum store on the High Street which will continue to display the collection while work is ongoing.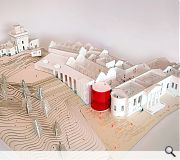 A new outdoor public space will open up previously obscured views to the Coats Observatory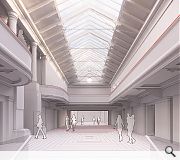 Improved accessibility and circulation will facilitate a quadrupling of visitor numbers to 125,000 a year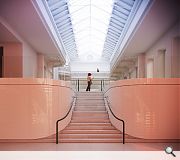 The ambitious move seeks to form an international visitor destination
Back to August 2019