Picture perfect
|
Send to friend
September 5 2008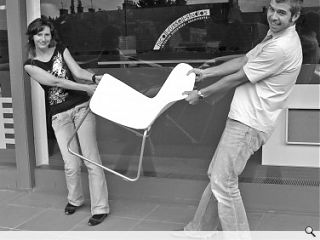 Scott McIntyre and Agnes Hegedus of Dundee based architects & interior designers, Nicoll Russell Studios, are celebrating reaching the final of a national photographic competition. The event was organised by Steelcase to photograph their iconic Westside Chair.
The pair are understandably delighted at having reached the final lucky thirteen and seeing their work published in a commemorative book. Doubly so as, incredibly, neither was aware of the others submission. There can be only one winner however and both shutterbugs must await the final decision of internationally renowned architectural photographer Tim Soar at a gala dinner and exhibition to be held in London's Farringdon on Friday 5th September 2008.
Scott is an interior designer who has worked for the practice for three years and was a graduate of Duncan of Jordanstone, he has been involved in many of the practice's restaurants including the recently opened "Playwright" in Dundee.
Agnes is Hungarian and graduated from the Budapest Technical University in Architecture and Engineering and has worked on some of the practice's key projects over recent years including the Calyx in Perth.
Scott reveals: "the competition has been so successful because every entrant received a chair which they then photographed, Steelcase gave us a very open brief, and I suppose we just tried to look at the challenge with a fresh eye. Agnes and I both chose to photograph the chair in a position which is clearly out of context with its clean modern appearance. That sense of humour seems to have paid off, and we have high hopes for the final."
Nicoll Russell Studios' senior partner Ric Russell proudly enthused: "our practice has won many awards over the years, so we are particularly pleased that two of our younger members of staff are clearly maintaining that tradition. We are very proud of their achievements as the only successful entries from Scotland, and because we have two representatives in the final. Everyone in our office is keeping their fingers crossed that Agnes and Scott will both come to the top of the judges list".
Back to September 2008