Marine research hub makes waves in St Andrews
|
Send to friend
January 17 2020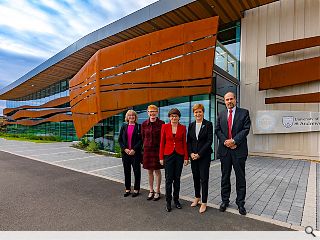 The University of St Andrews with BMJ Architects have completed a marine research centre to support oceanic science via a bespoke temperature-controlled aquarium.
The £16.5m Scottish Oceans Institute is built on the site of the original Gatty Marine Laboratory at East Sands and incorporates a mix of open-plan offices and public engagement space on an exposed beachfront under a roof modelled to resemble a rolling wave.
In a statement, the architects wrote: "The solar shading 'waves' surrounding the building were formed out of Corten steel. Corten has a natural patina of rust that protects itself ironically from further corrosion It is a unique material that strongly connects to ideas of time, memory and nature, weathering nicely and becoming increasingly beautiful with continued exposure to the elements.
"The Aquaria was encapsulated in cast concrete walls formed to incorporate the texture of wooden boards creating a grainy texture and simplicity identifying the contract to the glazed offices connecting the building users to the sea."
A visitor centre is included within the hub to help inform public knowledge of the oceans.
Back to January 2020