Mannered hotel defers to Queen Street Station drama
|
Send to friend
January 16 2020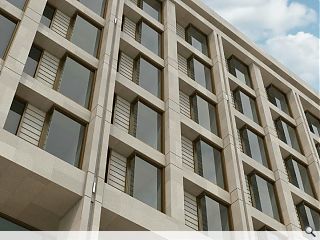 Meininger Hotels have filed formal plans to build a 160-room hotel on West George Street, Glasgow, with plans to demolish the disused Dale House rather than retain the structure.
The proposed works will see the existing basement retained and partially extended as part of the new build after the physical and financial constraints of the current structure were found to mitigate against re-use.
Articulating their approach architects Norr wrote: "The proposed redevelopment of Queen Street Station directly opposite will establish a language of a 'special' building at a node and therefore it was felt important in discussions that the design at 21 West George Street follow the established rules for 'ordinary' buildings which recognises the fabric and character of the conservation area."
This approach pairs rooms behind clearly articulated apertures with the limestone façade 'folding' into Anchor Lane, ground floor retail units will also turn the corner before the façade gives way to white brickwork and a black glazed brick base course sympathetic to its neighbours.
Suspended lighting is proposed to encourage pedestrian use of the lane as a shortcut to Queen Street Station.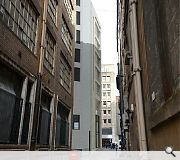 Activating Anchor Lane is a key consideration of the build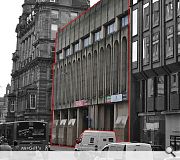 It had been hoped to retain the structure of Dale House before it was deemed unsuitable
Back to January 2020