Hill of Rubislaw flats plan scaled back
|
Send to friend
January 14 2020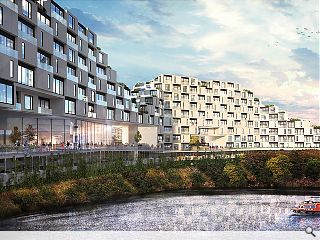 Intelligence Buildings Infrastructure, acting on behalf of Carttera, have slimmed down plans for residential development at Aberdeen's Hill of Rubislaw by reducing the accommodation on offer from 300 as first proposed to 245 flats.
Situated on the cusp of the 142m deep former quarry the planned flats were previously refused planning permission on the grounds of 'over-development' and an 'adverse impact' on visual amenity, prompting the revised approach.
The revised plan includes a height reduction of two floors and reorganized basement parking to provide an additional 30 spaces, with a further 22 surface parking spot allocated for users of a planned bistro.
As before the scheme employs a checkerboard pattern of 'in' and 'out' modules comprised of glass and solid panels.
In a planning statement, IBI wrote: "Roof and terraces are exploited as opportunities to 'green' the building, adding visual interest and contact with nature. Together with the green wall that will screen parking areas from longer views across the quarry, this greenery will visually link the building to the natural landscape around the quarry edge."
Breaks in the frontage along the ground floor will permit entrance to residents and the public to a newly formed terrace with views across the quarry.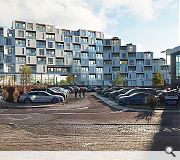 Car parking provision has been increased to 254 spaces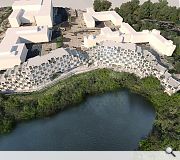 Six separate pre-application submissions have been filed over the past 30 months
Back to January 2020