Community library to serve as Cowie 'shopfront'
|
Send to friend
January 15 2020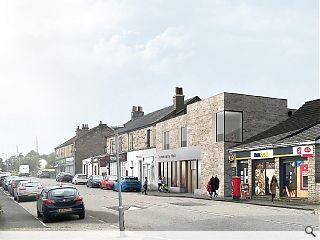 3DReid Architects have applied to build a new community hub in Cowie, Stirling, procured through the local authority on behalf of Hub East Central.
The Main Street build will centre on a double-height library addressing an enhanced streetscape with two flexible meeting spaces adding to the footprint to create one large public events space as required.
This space will be top-lit by a large roof lantern and will be visible from the street behind a retail-style 'shopfront' below a feature corner window. A 'maker's space' for commercial use is also offered.
Project architect Neil Middleton commented: "The group rooms and library open onto one another to provide a large open space but when closed off each has their character – the expansive library is top-lit and faces the street.
"The large group room is partially double height and opens onto the garden and the small group room is top-lit via a roof light. The interview room at the back of the building has a view towards the park and on approach offers a glimpse into the large group room.
"In contrast, the meeting room is glazed towards the business space and has a lateral view towards the end of the street."
A conscious choice was made to pursue a village centre location in order to reinvigorate Main Street.
Back to January 2020