Robert Gordon's College lay the ground for sports expansion
December 10 2019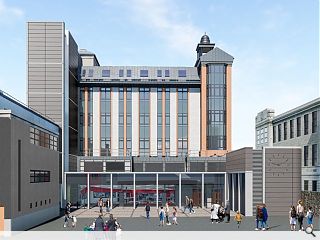 Robert Gordon's College, an independent school in Aberdeen city centre, has applied to undertake enabling works at its Schoolhill Campus to allow the creation of a new sports hub.
Michael Laird Architects have been employed to clear the 'haphazard' present site to leave a blank canvas for future development for the final phase of its campus development plan.
This work will entail demolition of the current science building and formation of a gunmetal stair, utility building and dining hall connected to the current Blackfriars Building.
In an accompanying statement the architects wrote: "… new extensions to the Blackfriars Building are intended to introduce a new architectural language to the campus at Schoolhill. It provides a modern statement which does not surrender to the stylistic references of modern buildings on the site but complements and is sub-subservient to the original historic buildings adjacent. Muted tones reflect original materials of the city and patterns imitate the geometric façades of neighbouring buildings."

Adopting the same footprint as existing outdated sports facilities the new sports facility will be detailed in a follow-up planning application.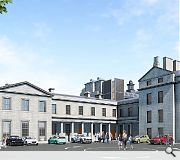 The A-listed main college will be retained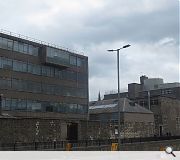 The current science block (centre left) will be demolished
Back to December 2019