Edinburgh mews elicits conflicting views
December 3 2019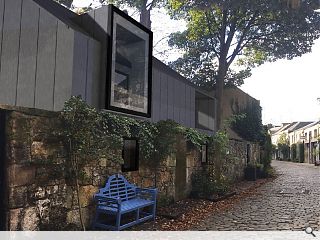 A bid to build a mews-style back-lane home within the established environment of Edinburgh's Royal Circus has sparked a passionate debate amid claims that such housing is alien to the area.
Somner MacDonald Architects have been instructed to design the Circus Lane residence behind an existing 2m masonry wall, with new openings permitting light and access to the difficult plot.
Rising above this retained element would sit a modern zinc extension under a pitched roof with a pronounced dormer breaking the eaves line. Behind a corner is cut away to permit the formation of a small sunken courtyard, opening up the floorplan to light and air.
Explaining this approach the architects wrote: "Our design approach, in general, is to distinguish old from new, to allow the historic old to be read amongst the jumble of development over time with new interventions legible as distinct from their predecessors. The aspiration is to create an architecture which is of its time and place, sitting alongside older development, adding new layers to the urban fabric which will last well and be of service for years to come."

The picturesque setting has become a popular lure for tourists drawn by the symmetrical framing of St Stephen's Church which terminates the present vista.
Back to December 2019