Queens Park FC pitch stadium improvement plan
|
Send to friend
November 20 2019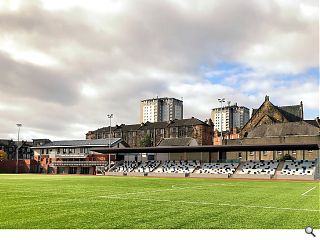 Planning permission is being sought by Queen's Park Football Club for the creation of new stands at Lesser Hampden Stadium, in the shadow of its larger neighbour.
Improvements have been necessitated by a pending change in ownership of the National Stadium to the Scottish FA, a side-effect of which is that the club will no longer be able to play there competitively.
Holmes Miller Architects have been appointed to adapt the current training ground into a fully functional stadium by extending the current west stand and adding a new east stand, boosting capacity from 470 to 1774.
The package of work also includes minor alterations to an existing clubhouse.
The architects wrote: "The aesthetics of the new stadium development will be kept the same as the existing clubhouse, Farmhouse, Byre and the west stand, with a pallet of red bricks, white render and metal cladding panels."
The work follows completion of the £3m North Stand at Hampden Park in 2013.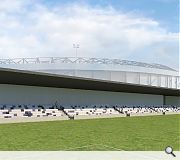 A new build stand will help to more than triple capacity
Back to November 2019