Dundee pub runs dry in flats and retail vision
November 20 2019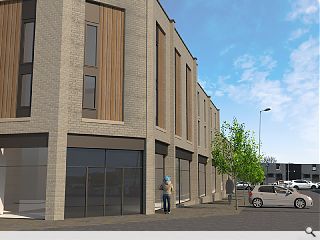 A derelict Dundee pub has been served its last orders in a new planning application requesting its demolition for the erection of 11 flats above four ground-floor retail units.
The Rock Public House on Dickson Avenue, Menzieshill, is a single-storey brick-built structure adjacent to a large council-owned car park, presenting an opportunity for densification and regeneration in the largely suburban area.
Updated plans prepared by Jon Frullani Architect call for new development to largely occupy the footprint of the existing building with each flat benefitting from a south-facing balcony with views across the Tay Estuary.
In making the case for consent the architect wrote: "The high-quality design of the new building will significantly enhance visual amenity on the Dickson Avenue streetscape with the building appearing as a landmark on a prominent bend in the street. The modern design of the proposed building in combination with the new community centre building will significantly improve the quality of the Menzieshill neighbourhood."
Work is already underway on the new community hub.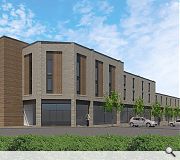 The new homes will complement ongoing regeneration of the area
Back to November 2019