The final piece of Ayr harbour jigsaw falls into place
|
Send to friend
November 12 2019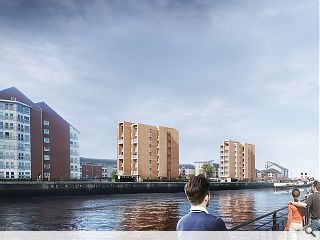 Ayrshire Housing has filed plans for the final element of a 25-year masterplan to rejuvenate redundant dockland and barracks in the town of Ayr, with an application to build 40 flats.
South Harbour Street is being taken forward by Page\Park Architects who have been commissioned to deliver twin residential blocks around a shared landscape car park, inspired by the surviving look-out post of the nearby Citadel.
Geared toward the over-55s the development will provide accommodation to Housing for Varying needs standards and includes feature 'look-out towers' of alternating full and Juliette balconies to make the most of sea views.
In their planning application, Page\Park wrote: "Windows are concentrated at the narrow ends of the block to maximise the good views from the site to the sea and back to Ayr town centre and minimise the views to the dock area at the North harbour.

"Like the existing blocks, we would propose brick as the facing material with a colour to complement the stone of the citadel wall."

A former ice station serving the towns fishing fleet the site lies next to the quay from which the Waverley will sail from next year subject to a successful boiler refit.
Assuming funding to be forthcoming from the Scottish Government work could begin on the homes by the end of 2020.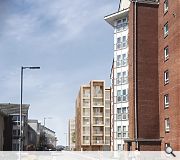 The homes would finally complete the Ayr Citadel masterplan, first begun in 1994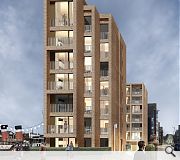 The seven storey blocks take their cue from surviving fragments of the Citadel of Ayr
Back to November 2019