Glasgow's city centre lanes strategy embodied in £3m apartments bid
October 31 2019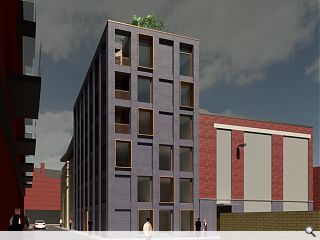 Glasgow is to receive 18 new serviced apartments under plans drawn up by Mosaic Architecture + Design for an unlisted former city centre pub.
A planning application has been filed by Big Top Productions to demolish Annie Millers on the corner of Ropework Lane and Metropole Lane with the aim of furthering Glasgow's city centre lanes strategy.
Mosaic director Stephen Mallon commented: "This is a challenging site, given the position of the existing building in Ropework Lane attached to adjacent mixed use and leisure buildings. Although challenging, it offered the chance to be innovative and creative with the design. It was important, we felt, to give a strong definition to the edge of the city block taking cognisance of the local urban form.

"Using a simple palette of blue engineering brick, large glazed panels and lightweight bronze shingle cladding, playfully utilised in deep window reveals, the pattern, rhythm and depth of the design provides a quality piece of contemporary architecture which will have a positive impact on the townscape and wider city."

The £3m development is described as a model that could be rolled out to other UK cities.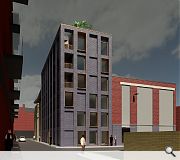 Ropework Lane day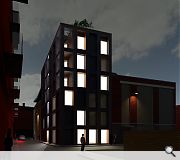 Ropework Lane night
Back to October 2019