Pollokshields flats cleared for Tramway site
October 18 2019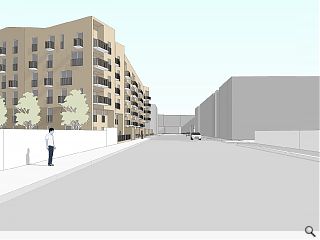 Dundas Estates and Hypostyle Architects have won consent for a revised apartment block in Pollokshields Glasgow after standing their ground.
The tweaked approach reflects planners concerns over the massing, character and corner treatment of the initial 2018 proposals, together with the privacy of ground floor bedrooms, amid requests for greater detailing to the brickwork.
In an updated design statement the practice wrote: "The planning department has suggested that an additional level of detail be introduced at around two storeys to reinforce the relationship with the Tramways bays and string course.

"However we would note that additional levels of brickwork detail have already been introduced as a consequence of comments by planning. There is a concern that the design could become 'overcooked' such that it starts to appear fussy."

In response, Hypostyle revisited the project to incorporate additional brickwork detailing in the form of a contrasting bond string at both ground and first floor levels while clarifying decisions taken elsewhere.
Back to October 2019