Scottish government hits the road on housing 2040 journey
October 18 2019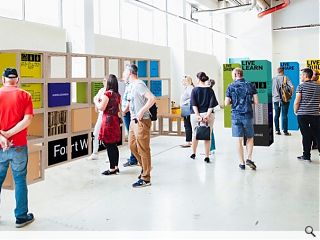 Architecture & Design Scotland have firmed up a schedule for a planned travelling exhibition designed to convey the views of local communities on housing to government.
Present Voices – Future Lives will exhibit at a total of 12 locations around the country starting in Inverness on 4 November and concluding at Galashiels on 16 December in addition to a program of workshops.
The interactive exhibition will establish what goals the Scottish Government's housing policy should set by 2040 and set out a roadmap for realising that vision.
Communities secretary Aileen Campbell said: "Now is the time for us to come together to shape a resilient housing system which works for us all and addresses these challenges. To do that, we need to work with and listen to people from all areas of Scotland.
"This exhibition is an opportunity to get the views of school children and local communities across the country on the future of housing."
The travelling exhibition has been curated by Edinburgh University's School of Architecture and Landscape Architecture, Collective Architecture, Peak15 Design, Chris Leslie and Sandy Halliday.

Full schedule:
4 November - Inverness Royal Academy 18:00-20:00
6 November - Ullapool High School 18:00-20:00
13 November - Kirkwall & St. Ola Town Hall 18:00-20:00
20 November - Fort William The Nevis Centre 14:30-16:30
22 November - Dundee Baxter Park Pavilion 18:00-20:00
25 November - Peterhead Academy 18:00-20:00
28 November - Irvine Royal Academy 18:00-20:00
29 November - Glasgow St. Francis Community Hall 18:00-20:00
3 December - Portree High School 18:00-20:00
5 December - Rothesay Joint Campus 18:00-20:00
11-12 December - Edinburgh Castlebrae Community High School 18:00-20:00
16 December - Galashiels Academy 18:00-20:00
Back to October 2019