Revised Dundee Urban Beach design makes waves
October 3 2019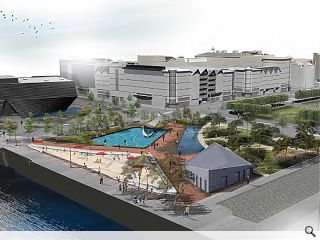 Dundee City Council has published its latest plans to continue a programme of waterfront regeneration with plans to create a new public space.
Waterfront Place is being spearheaded by Optimised Environments with Holmes Miller overseeing the design of an active travel hub, to establish a focal point for outdoor activities through provision of a beach, water features and public art.
Inspired by coastal forms the landscape proposals would connect the newly completed Slessor Gardens with the V&A Dundee while serving as a distinct destination on its own merits.
Conceived as a form of urban promenade the scheme will combine a variety of woodland, dune, beach and shoreline features punctuated by a hub building based on a 'skewed and distorted' beach hut finished in black brick and grey anodised cladding.
In a concept statement the architects wrote: "The building also echoes the idea of the 'Bathing Machine' which was a beach hut that could be wheeled out into the sea to provide discreet changing for their Victorian users. The proposed Active Travel Hub will sit within the landscape design with decorative water features, entering Waterfront Place from the South the Active Travel Hub will sit visually within a water & beach environment that recalls the idea of the 'Bathing Machine'."

New clay brick paving will connect these spaces with a 'playful' wave pattern marking boundaries.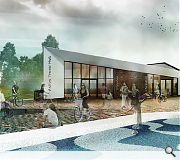 An active travel hub has been modelled on a Victorian beach hut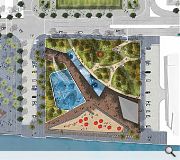 The public space will help join the dots along the waterfront
Back to October 2019