Mixed housing bid surfaces with Meadowbank triangle trio
October 2 2019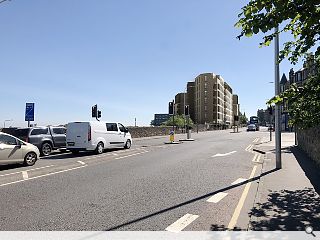 Drum Property Group and Halliday Fraser Munro have extended their relationship at Leith Walk with plans to develop a major mixed student and regular residential project on the site of an existing nine-storey office block at 151 London Road, Edinburgh.
Wrestling with an awkward triangular plot bounded to the north by the East Coast Main Line the applicant aims to rationalise the public realm by bridging level changes and streetscape improvements by inserting a total of 107 flats and 377 student rooms spread across three separate blocks.
The existing London Road public realm will be enhanced by establishing a 6m setback to the planned buildings with new tree planting helping to buffer heavy traffic on the arterial route. This space will provide direct access to each block as well as a series of terrace gardens set above parking below.
All three blocks will adopt a common design language with the architects observing: "Brick is used for the majority of the facades to the residential block and the front elevation of the student block. The colouring and detailing will vary slightly from building to building with soldier coursing and recessed panels providing texture and visual interest.

"Standing seam roof/wall cladding is used to form the elevational treatment on the topmost storeys of both the student and residential blocks at varying heights. This adds colour and visually brings down the scale of the block heights as viewed along London Road."

The student block will employ metal cladding to secondary elevations with brick reserved for the London Road façade and stair towers.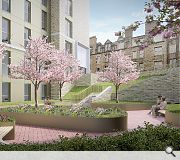 Amenity space will be provided in the space between each block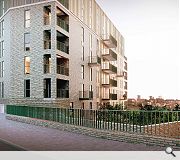 New balustrading will help protect pedestrians from a precipitous drop
Back to October 2019