Central Cumbernauld cinema complex earns planning in principle
|
Send to friend
September 30 2019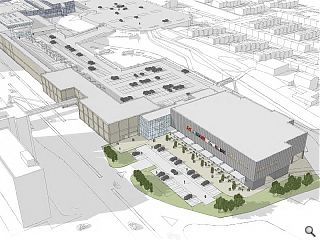 An application in principle to build an eight-screen cinema and four restaurants have been approved by North Lanarkshire Council, clearing the way for a reorientation of the town centre.
The leisure complex would rise on the site of an existing car park at the Teviot Walk Mall and includes a public entrance atrium which could play host to a relocated St Enoch's Clock to provide a new focus for the town.
Outlining their decision the authority wrote: "The proposal accords with the relevant policies in the Local Plan and it is considered that it has been demonstrated that the proposal, in terms of traffic generation and parking provision, is acceptable in principle."
Indicative plans drawn up by CDA and Hamcap show a split-level hall bolted onto the current shopping centre off Central Way, accessible from ground level and an existing parking deck by way of a glazed entrance.
A detailed planning application will now be prepared to finalise the design, layout and landscaping of the centre which will require further approval.
Back to September 2019