Scottish Government waves through Edinburgh Marina flats
September 25 2019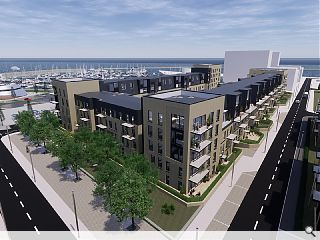 The Scottish Government has granted detailed planning consent for 100 homes designed by Wilson + Gunn Architects at Granton Harbour following an appeal by Edinburgh Marina Holdings.
The Moorings will provide a mix of apartments ranging from duplex penthouses to garden flats with private patios overlooking the marina.
In approving the scheme the Reporter wrote: "'I find that the layout, materials, design, height and density of the proposal are appropriate to the location… the proposed use of zinc cladding and larger windows on the upper floors and recessed vertical sections all contribute to a modern appearance, in keeping with the completed blocks. This helps to provide a sense of place which ties in with the council's aspirations for the wider masterplan area and drawing on the positive characteristics of the area."
Perks of each apartment includes an electric vehicle equipped underground parking space with purchasers also able to reserve a private berth.
When complete Edinburgh Marina will include a 187-room Hyatt Regency Hotel and a health hub.
Back to September 2019