Montrose lookout tower rises above the competition
|
Send to friend
September 25 2019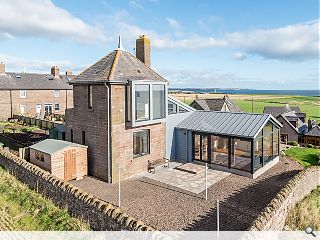 The renovation of an old coastguard lookout tower in the small fishing village of Usan, near Montrose, has come to national attention following its renovation by MCK Construction and Garry Adam Architect.
The Angus-based contractor won the best in show Master Builder Award from the Federation of Master Builders' after topping the large renovation category of this year's awards.
Brian Berry, chief executive of the FMB, commented: "Saving a derelict coastguard tower built over 100 years ago and turning it into a family home is no mean feat. The builder's skills and attention to detail enabled the delivery of the refurbishment to the tower and the addition of a stunning modern extension. In short, the high-profile architect's vision was turned into reality by the builder."
Occupying an exposed position on the North Sea Coast the lookout was abandoned 60 years ago, deteriorating over the intervening years as elements such as a timber lookout balcony were lost to rot. This decline was only arrested when a local fisherman purchased the ruin, converting and extending the property to serve as a family home.
Boasting panoramic North Sea views, the unconventional property retains period stonework, a Welsh slate roof and grand staircase while benefitting from a timber-frame extension faced in cement cladding with large format double glazing.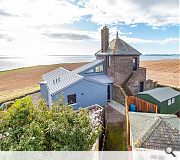 The dilapidated lookout had been reduced to a shell prior to its transformation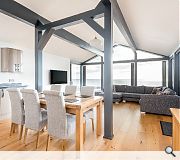 The owners hard work has been rewarded with a luxurious home
Back to September 2019