Dunmore Pineapple tourism drive bears fruit
|
Send to friend
September 19 2019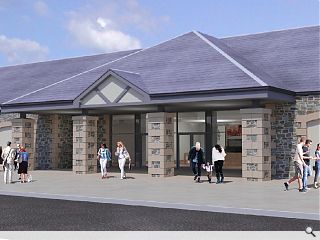 Plans have surfaced to build a new visitor centre for the Dunmore Pineapple to the north-west of Airth, together with an enabling development of 22 bungalows, in the form of an application to Falkirk Council.
Conceived by George Russell Construction and Entasis Architects the site lies 500m from the Pineapple on the outskirts of the village, providing a café alongside a display area and workshop with open views over the River Forth.
Outlining the design proposals the applicant wrote: "The visitor centre is conceived as a single storey pitched roof building with traditional materials and proportions, echoing the agricultural building forms typical of the area.
"Natural stone walls to the front and side elevations and a hipped natural slate roof will set the building in the landscape and, along with well-designed landscaping and planting, minimise visual impact from further away."
Originally built by John Murray, the fourth Earl of Dunmore and a Colonial governor of Virginia, the A-listed folly is now in the care of The Landmark Trust who have converted the building to provide holiday accommodation after securing a lease from the National Trust for Scotland.
Back to September 2019