Sauchiehall Street heralds start of new 'Avenue' era for Glasgow
September 18 2019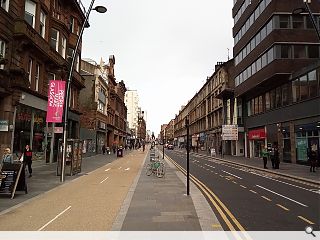 Glasgow City Council has officially inaugurated the first of a planned network of 'Avenues' which will ultimately bisect the city as part of a £115m public realm initiative.

Billed as the largest streetscape enhancement project in the UK the scheme includes widened pavements for pedestrians and outdoor café's; a two-lane cycle path; 27 deciduous trees; upgraded bus shelters, lighting and seating and 'smart' surface water management infrastructure.

As part of the improvement programme, step-free junction upgrades and repaving of streets to the south of Sauchiehall Street between Elmbank and Douglas Street was also carried out.

Key to the new layout is the relocation of street furniture to a central reservation, made possible by repurposing part of the previous carriageway as a shared pedestrian and cycle space.

Councillor Susan Aitken, Leader of Glasgow City Council commented: "We've created a physical environment which will be the catalyst for social and economic benefits, improving Sauchiehall Street's overall look and feel and helping it adapt to the changes affecting high streets everywhere. It's now a street where pedestrians, cyclists and vulnerable road users are prioritised over the car, a safer, cleaner, more vibrant space which is attractive to both visitors and investors."

Upon completion, the Avenues programme will revamp 17 key streets and adjoining areas throughout Glasgow city centre with the aim of discouraging vehicle traffic.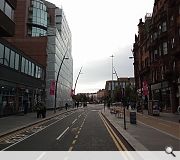 'Intelligent' street lighting has been installed to serve as a gatway from Charing Cross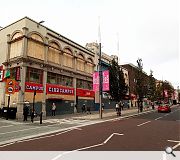 Investment in the street frontage hasn't kept pace with the public realm
Back to September 2019