New Forth Bridge visitor hub plans emerge
|
Send to friend
September 12 2019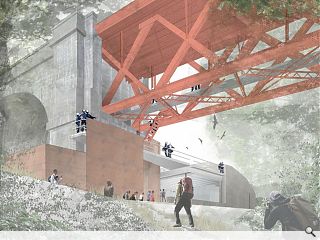 Network Rail has come forward with fresh plans to build a Forth Bridge visitor centre as the hub of a new 1.6km path network connecting to Dalmeny Station and a viewing platform on the bridge structure itself.
The Forth Bridge Walk Reception Centre has been conceived by WT Architecture, Arup and The Paul Hogarth Company to capitalise on the tourism potential of the famous rail link by repurposing a disused depot.
The planned reception hub has been conceived as a 'solid, ground-hugging structure' topped by green roofs, establishing a robust presence at the foot of a run of stone arches leading up to the iconic bridge with visitors arriving at an entrance sculpted from concrete and Corten screens.
Describing this approach in an outline design statement the architects wrote: "The building is overtly contemporary while echoing the defensive organic structures on escarpments, islands and hilltops around the Firth of Forth as well as those of the gun emplacements immediately adjacent.

"The new building reinforces the defensive edge of this escarpment using a rising rampart-like parapet as the access to the bridge itself. A more vertical two-storey inner core also communicates the purpose of the building of getting people up to and down from the bridge. To the east the building's walls are more open and welcoming, allowing visitors and light to flow in and out."

A network of steel gantries will provide direct access to the bridge structure itself with those undertaking the vertiginous climb rewarded by two distinct viewing platforms at the top of the south cantilever.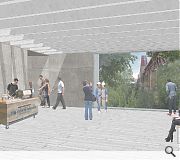 The new hub will enhance the Forth Bridge as a must-see destination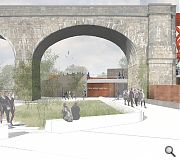 Visitors will be able to access the centre direct from Dalmeny Station via a new timber footbridge
Back to September 2019