Borders Gateway progresses with planning approval
August 26 2019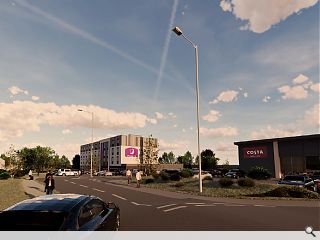 Borders Council has awarded planning consent to a 'gateway' mixed-use development near Tweedbank railway station comprising a 71-bed hotel, petrol station and drive-through coffee shop.
Dismissing concerns that the scheme would undermine the current town centre New Land Assets were cleared to press ahead with the build which will be progressed largely as first envisioned save for the omission of a discount food store.
Justifying their approval principal planning officer Craig Miller wrote: "… it is considered that there is insufficient evidence or justification to oppose the proposed hotel based on town centre or economic impact. Whilst there will be likely to be some impact on competitors, the planning system is designed not to specifically protect individual operators or inhibit private market competition.
"There are economic benefits which have been identified as a result of the proposals and there is no firm contrary evidence to suggest there would be any particular detrimental effects on town centres such as Melrose or Galashiels."
Borders Gateway has been designed by Wilson + Gunn Architects with TGP landscape architects.
Back to August 2019