Govanhill children's home tabled for Butterbiggins Road
August 21 2019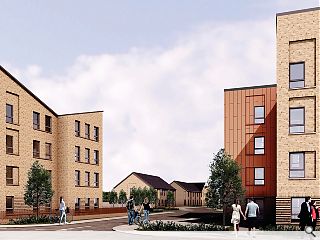 Mast Architects have followed up their plans to build 186 affordable homes in Govanhill, Glasgow, with proposals to erect a children's residential home.
Commissioned by the Link Group the eight-bedroom property will stand on a gap site off Butterbiggins Road amidst the new housing, which is already under construction.
Picking up on the design from an adjacent terraced block with feature bookends and contrasting brick the build will cater for young people who are unable to reside with their own families.
Detailing their approach the architects wrote: "The House has been positioned on the western boundary of the overall new build development and has a clear view of the 'open courtyard' directly opposite. These courtyards have been established to echo the purpose and design of the nearby tenement blocks with a central communal public green or garden, to compliment the history and context of the area. The proximity of the site to the courtyard will help integrate the children into the community, as the open space will be used communally for socialising and outdoor play."
Grey cladding panels have been employed to give the illusion of larger windows common to traditional tenement properties in the area.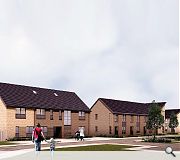 The design seeks to blend in with neighbouring properties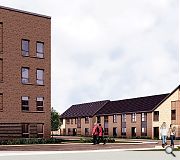 The home will nestle within a much larger residential development
Back to August 2019