'Arrogant' River Ness art project given the final all-clear
August 21 2019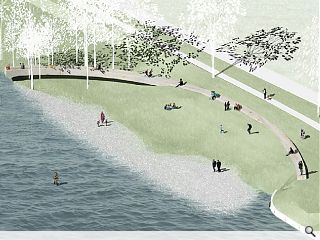 The Highland Council has given the final go-ahead to a riverside art installation in Inverness comprising curving stone walls situated on opposing banks of the River Ness.
Work had stalled on delivering the landform amid opposition from local campaigners who argued that the £240k project would spoil the existing landscape but such concerns were dismissed by councillors.
My Ness has been conceived by Glasgow-based arts practice Sans Facon in collaboration with Office for Subversive Architecture to enhance the social role played by the river in city life.
Promoted as a 'bridge' and 'bench' the structure would include an elevated span on piers including short cantilever over the river connecting to a simpler blockwork structure built into the ground.
Critics argue that the riverbank is fine as it is without the need for any engineering with resident Alan Findlay writing: 'It's a sad aspect of mankind's arrogance that our species thinks it can improve on nature, let's not do it here'.
Initial plans called for a pivoting pier to be erected but this was dismissed on safety grounds.

Back to August 2019